DESIGNED WITH YOU IN MIND
All of the features that are part of each Infinity design have two things in common – your safety and comfort.  See how each element plays a part in providing you with the highest quality, best comfort, and most safety.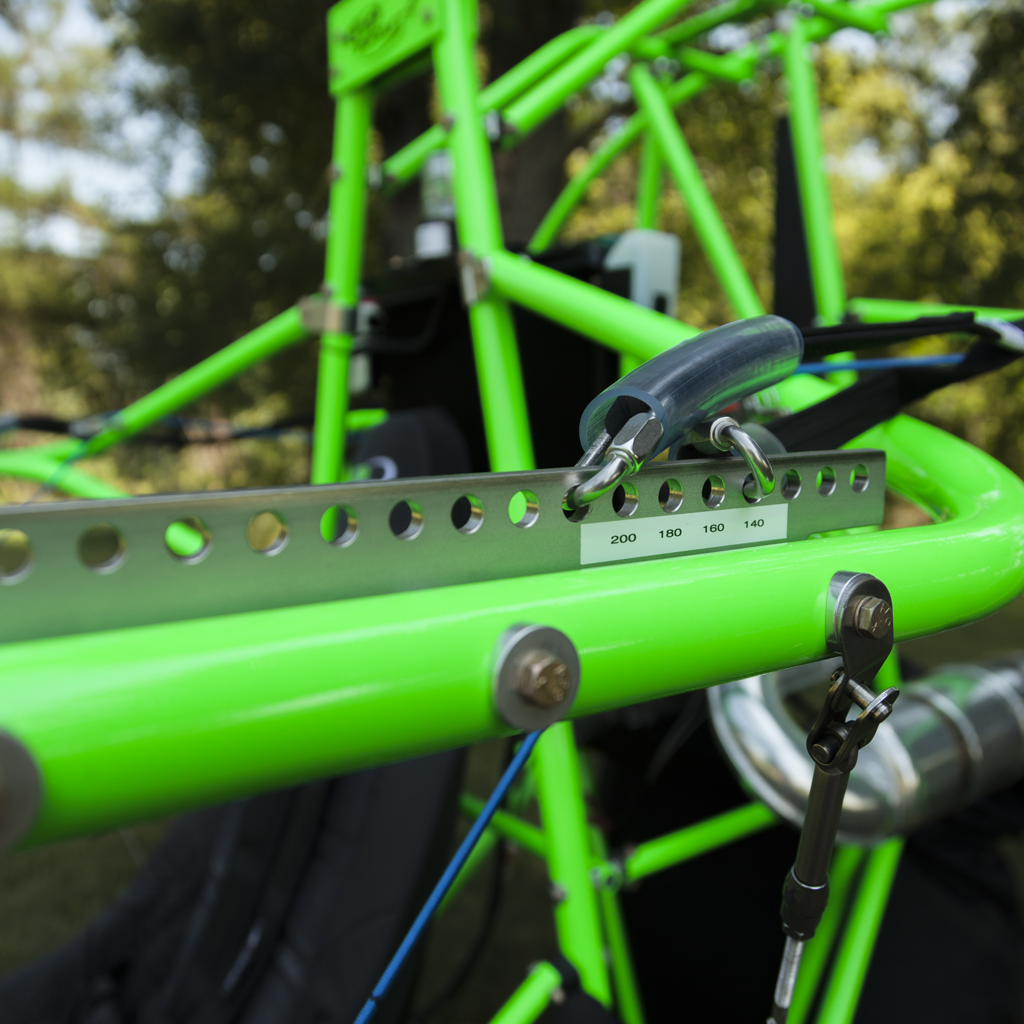 Our canopy hook-up points are located at a near perfect position in relation to the thrust line of the prop. Locating the hook-up points too high can make the machine fly with a proposing effect. The width of the chute hook-up points are near perfect. The parachute manufactures recommend approximately 60" spread minimum between the hook-up points to allow the chute to have the proper crown. With some other brands, the points are too close together, which gives the chute too much of a rounded crown making flight of the machine less stable.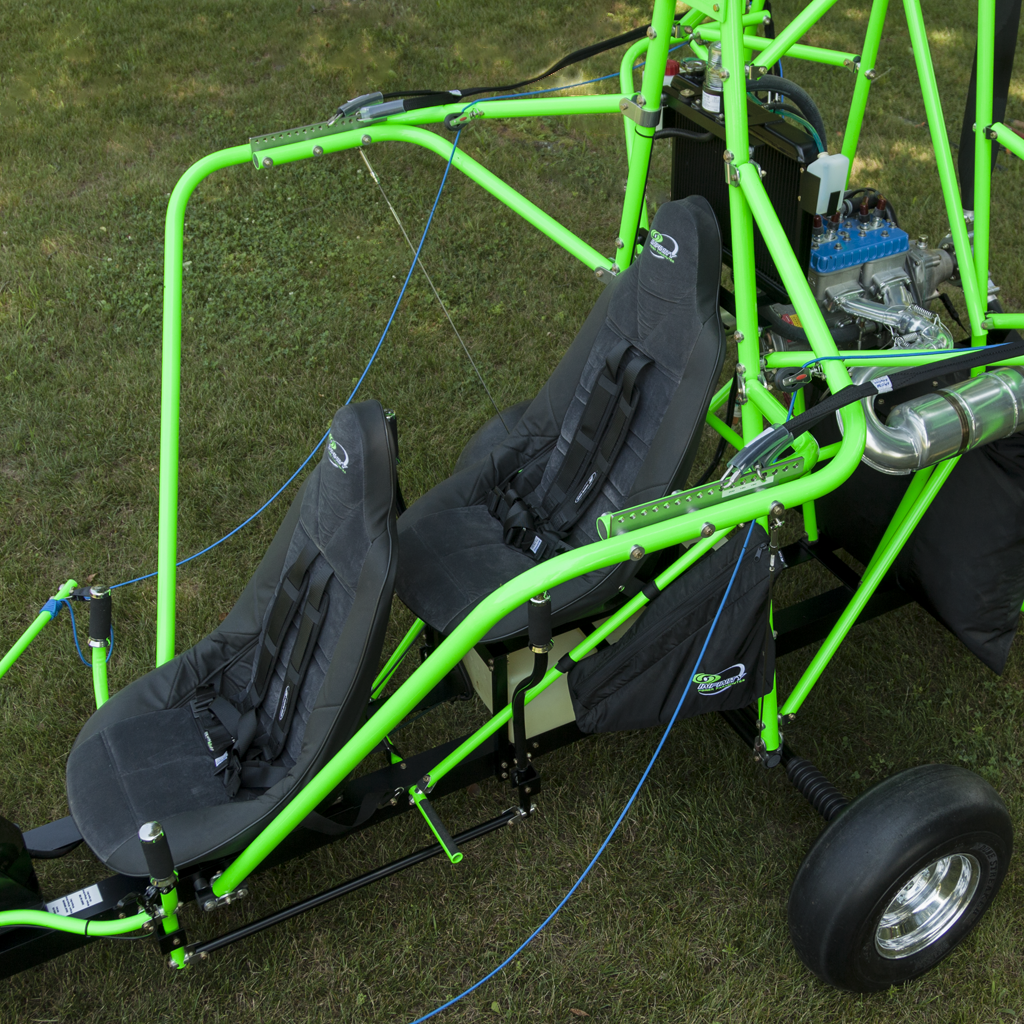 All Infinity PPCs are equipped with one or two high-back molded seats (depending on model chosen). The seats feature 4-point individual seat harnesses allowing each occupant to be properly secured into their own seat, which gives the pilot and passenger the best back and head support in the industry. Also, the front seat is adjustable making the machine very accommodating for a short or tall pilot without the need for tools to make adjustments. Other PPCs have a low back seat providing virtually no head or neck support, and also require tools to make even the simplest seat adjustment.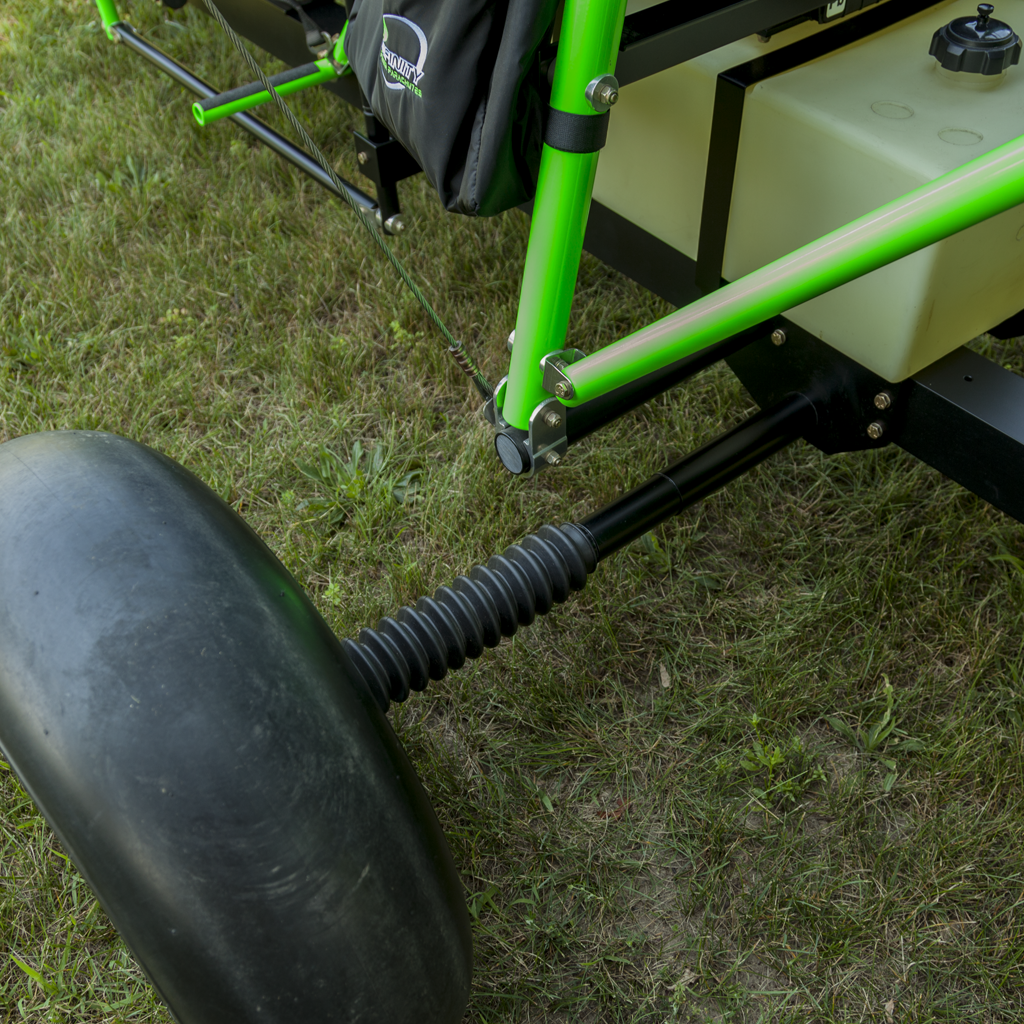 Our suspension consists of an ultra-durable 1-½" fiber flex rod supported with a double sleeve chromally tube. The design allows the tire to move in all directions making your take-off taxi run and landing smoother in all types of terrain. Infinity PPCs are also the only planes using a large 22" completely smooth Tundra tire for those less than perfect flying locations. Other manufactures have a design that allows the tire to move in an up and down motion only. This, coupled with the small tire size standard on most other powered parachutes, can result in serious damage to your machine's suspension when the terrain is less than perfect. 
ENGINE & PROP RING-CAGE CONSTRUCTION
The engine and prop ring guard area is made up of 1-¼" diameter aluminum tubing with an 1/8" wall thickness. Combine this with our triangulation cross bracing and you have one of the strongest hoop cage areas of any machine being produced today. Some manufactures use a larger diameter tube and consequently have to settle for a much thinner wall thickness to allow for a properly bent shape to make their cage area. With little to no structural cross bracing, they lack the strength to avoid structural and/or propeller damage in the event of a rollover or misdirected landing.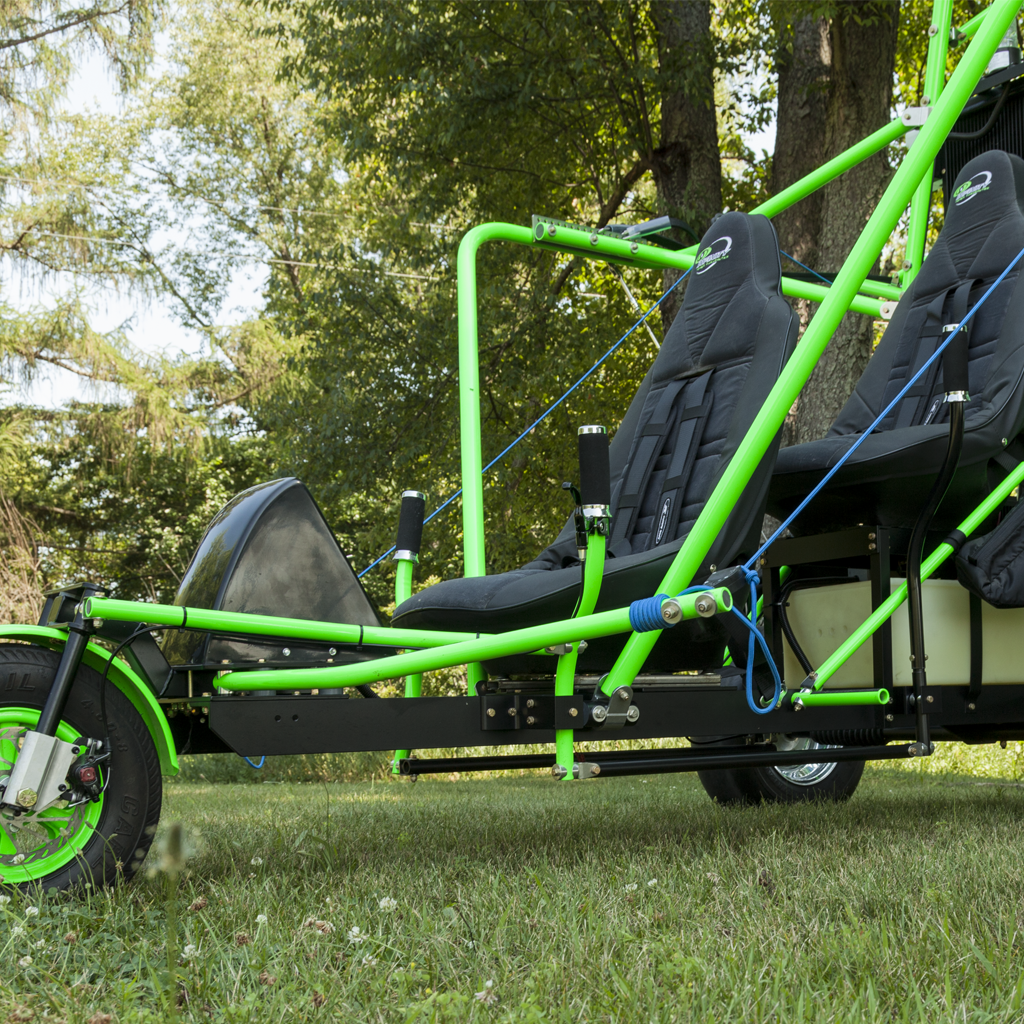 CHASSIS STRUCTURAL STRENGTH
The main chassis rails are machined from 3″ x 3″ x ¼" thick aluminum angle material. Running front to rear, they are the strongest main rail system of any machine on the market. This also provides a wide flat surface on which to mount the additional chassis components. This in turn ensures added strength to all aspects of the chassis assembly. With an industry best 3 YEAR chassis warranty we are confident in its design and durability compared to other similar machines. Also, other manufactures may use round tubing for their main rail structure which will have more of a tendency to flex throughout the length of the assembly making the mounting of the other components more difficult and giving it a less appealing look.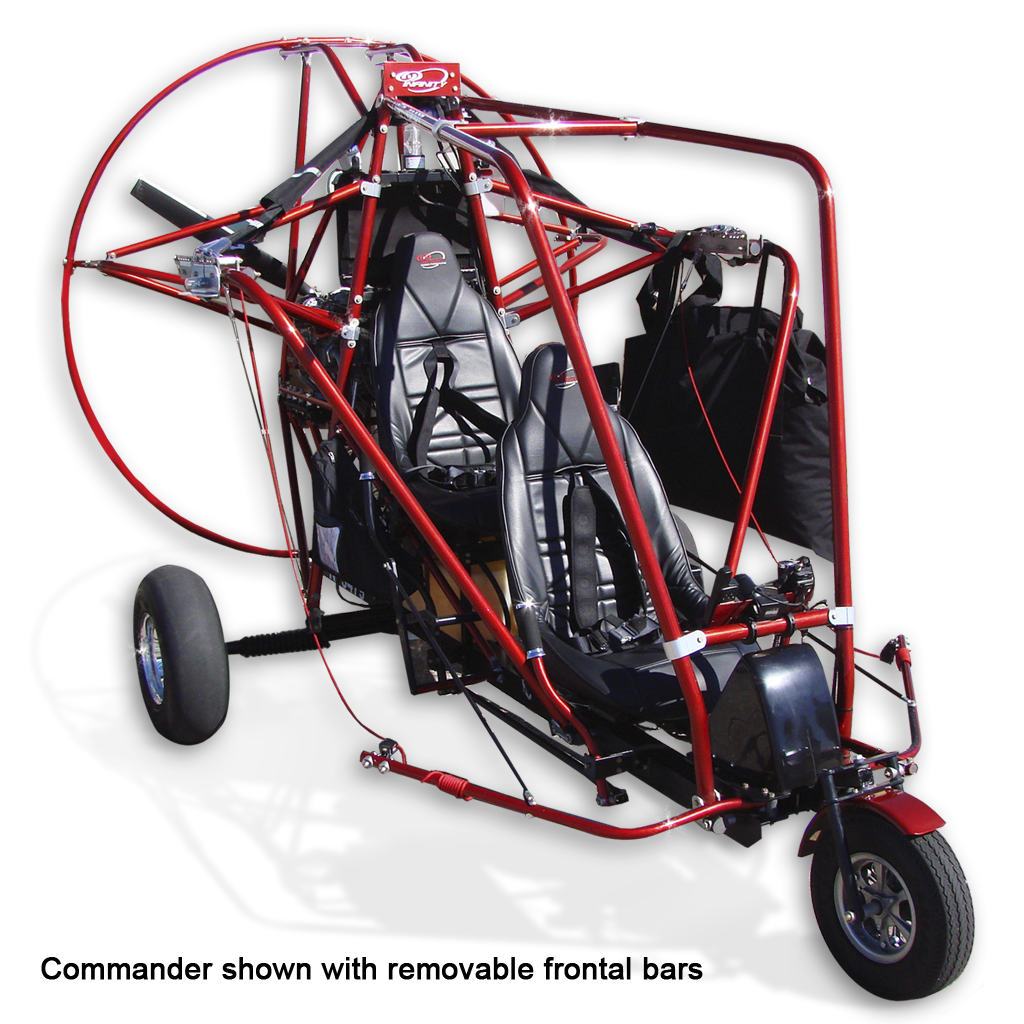 Another great feature is the removable frontal bar system, which does not affect the structural integrity of the aircraft. You can purchase your Infinity with or without frontal bars. When secured in place they are as strong as any on the market, yet with little effort they can be removed should you want a more open flying experience. For those of us who enjoy flying during the cold winter months, an optional windshield is a great accessory to combat the winter wind. Some of the other manufactures have a non-removable frontal bar system which is needed to help support there lower tubular chassis design and may or may not have the windshield option. For resale purposes, both can be very appealing options in the event that you may or may not care for the frontal bar concept or a windshield.
CALL US
Tel: 269-659-9113 | Cell: 269-753-9118
EMAIL US
info@infinitypowerchutes.com
ADDRESS
29692 E. Lafayette Road Sturgis, MI 49091